Introducing BlogNLP: Craft. Optimize. Excel.
Join the revolution of over 1 million storytellers who've chosen BlogNLP to elevate their content. With the intelligent synthesis of GPT-3.5-Turbo for our free users and the unparalleled prowess of GPT-4-Turbo for our premium members, BlogNLP is not just a tool; it's your partner in the quest for writing perfection.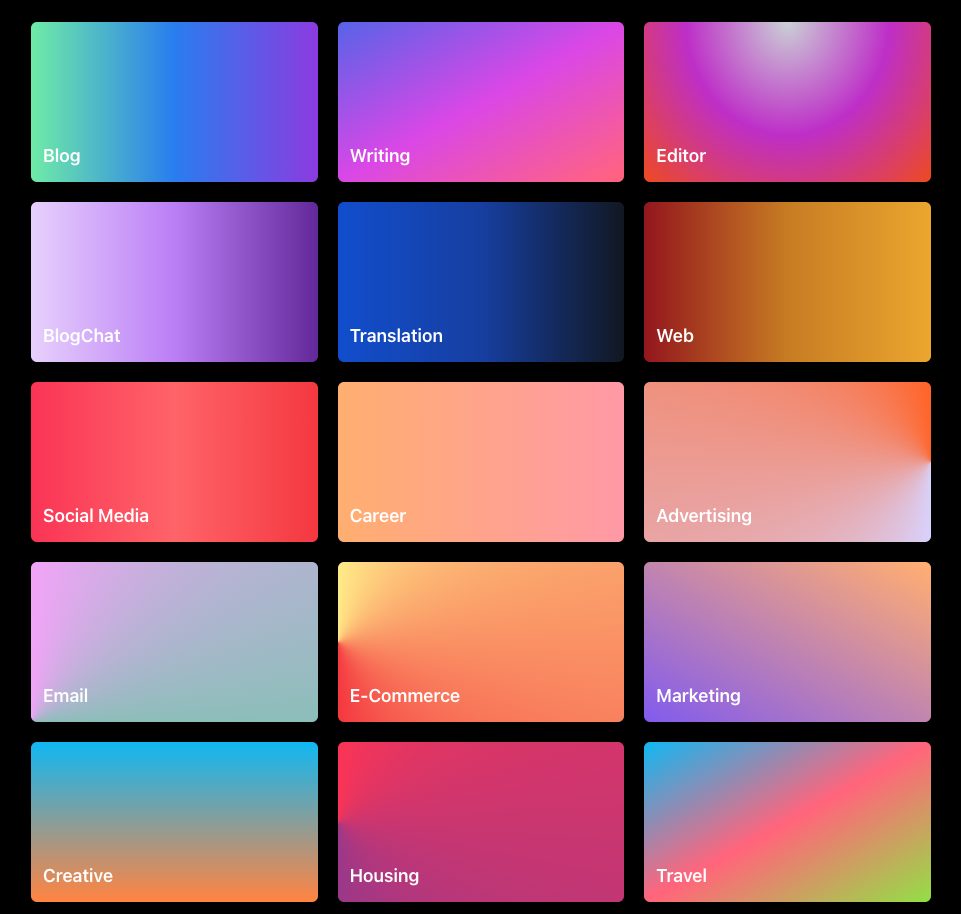 BlogNLP in Action: Diverse Use Cases
For Bloggers
Create engaging blog posts in minutes. With AI-assisted writing and SEO suggestions, BlogNLP helps you maintain a consistent and compelling online presence.
For Marketing Teams
Generate persuasive marketing copy that resonates with your audience. From email campaigns to product descriptions, BlogNLP enhances your marketing efforts.
For Academic Purposes
Students and researchers can leverage BlogNLP for drafting essays, reports, and papers with enhanced efficiency and creativity.
For Small Businesses
Craft compelling content for your website, brochures, and social media posts. BlogNLP simplifies content creation, allowing you to focus on growing your business.
Optimize your content creation with BlogNLP
AI-Powered Efficiency
Unleash the power of AI to streamline your writing. With BlogNLP, you can create high-quality content up to 3 times faster. Transform hours of writing into minutes, ensuring you meet deadlines effortlessly
Enhanced Content Quality
Elevate your writing with our advanced AI algorithms. BlogNLP ensures your content is not just fast, but also engaging, informative, and tailored to your audience's needs. Experience a noticeable improvement in reader engagement and content value
Time-saving
By generating content in a matter of seconds, BlogNLP saves you valuable time that you can use for other aspects of your blog or business
User-Friendly Interface
Whether you're a seasoned writer or just starting out, our intuitive interface makes content creation accessible and enjoyable. Say goodbye to complex tools; with BlogNLP, high-quality writing is just a few clicks away.
SEO Optimization Made Simple
Struggling with SEO? Our AI assistant guides you through optimizing your content for search engines. By integrating SEO best practices, BlogNLP helps your articles rank higher, driving more organic traffic to your site.
Better productivity
With BlogNLP you can easily create a number of posts in a day and increase your productivity
Hear from Our Satisfied Users
Blogger
'As a professional blogger, BlogNLP has cut my writing time in half while improving my content's engagement. It's like having a co-writer who never sleeps.'
Marketing Professional
'BlogNLP has been a game-changer for our content marketing strategy. The SEO optimization tips have significantly increased our web traffic.'
Freelance Writer
'With BlogNLP, I'm able to deliver quality content to my clients much faster. It's an indispensable tool in my writing arsenal.'
Small Business Owner
'I was struggling with content creation for my business, but BlogNLP made it easy and enjoyable. It's like having a professional writer on my team.'
Content Strategist
'BlogNLP has revolutionized our content planning and execution. The AI insights help us create content that truly resonates with our audience, driving up engagement significantly.'
SEO Specialist
'The SEO recommendations from BlogNLP are spot on. It's like having an SEO expert embedded in your writing tool, ensuring your content performs well in search rankings.'
Creative Writer
'As a novelist, I often struggle with writer's block. BlogNLP has been an incredible creative partner, helping me brainstorm and flesh out ideas for my stories.'
Social Media Manager
'Creating fresh and engaging posts every day is a challenge. BlogNLP has been a lifesaver, helping me generate ideas and craft posts that my audience loves.'
Educator
'Creating fresh and engaging posts every day is a challenge. BlogNLP has been a lifesaver, helping me generate ideas and craft posts that my audience loves.'
Technical Writer
'Writing technical documentation can be tedious. BlogNLP helps me keep my language clear and concise, making complex information accessible to all readers.'
Don't Just Write, Inspire.
Begin your journey with BlogNLP today. Embrace the AI-assisted future of content creation at an unbeatable price. Sign up now and witness the transformation of your words into legacies.